Error processing SSI file
Here's the story. Jeremy and I wanted to do something a little crazy and expensive just before he got married on August 19. I found a place in Bellevue that will actually rent exotic cars to you. We decided to rent a Porsche Boxster S, because that is Jeremy's dream car; and mine, too. Anyway, we did it. It was very expensive, but very worth it. I would do it again for a special occasion. Jeremy and I both finished off a roll of film each and I took some pictures with my digital camera. Here are the first of them.
Click on each picture to see it clearer.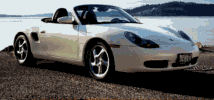 Error processing SSI file